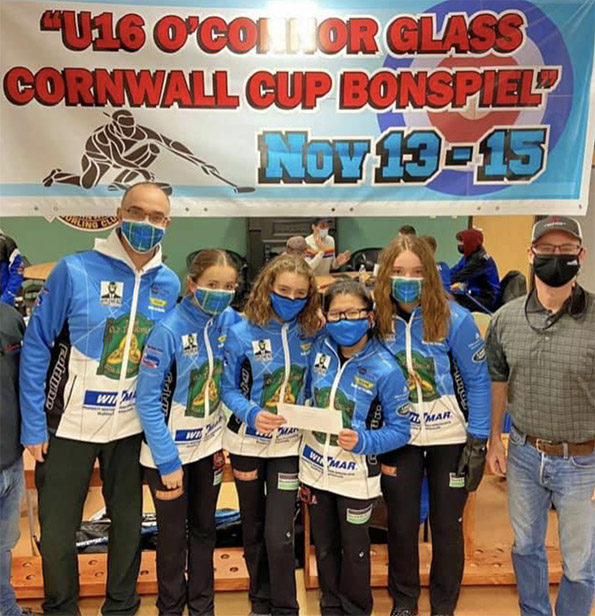 Nova Scotia Curling – The Challenge of Covid
We are delighted to share a wee update with our friends in Nova Scotia – Team Blades & Team Atherton. Two young teams who are showing the dedication requirred to succeed in the sport.
Team Blades had a great start to our Covid season. Cases were low across Atlantic Canada and we were able to curl like it was 2019. The girls did have one spiel cancelled due to an outbreak in Moncton, but shortly after their third spiel of the year, an undefeated run through a U16 event in PEI, things started to crumble.
First, the area around Halifax got shut down for three weeks, meaning Sophie, Kate and Alexis were not allowed to curl at all. Steffi and Andrew carried on alone in Chester, but things looked ominous. By mid December Halifax was looking better but Public Health still had concerns and while everyone was allowed back on the ice, no games or bonspiels were permitted anywhere in Nova Scotia.
In mid January those restrictions were extended again to the end of the month and two days later our Provincial curling body elected to cancel all provincial championships until March 1. Unfortunately, this took away all three – U15, 18 and 21 – age groups we intended to play in. Very sad news, but we will persevere.
Two days later, after one local club pushed the envelope a bit to get our sport treated more like larger team sports, we were able to obtain permission to form training groups of up to 25 within which we can play scrimmages. Team Blades promptly took on fellow Foxglide representatives Team Atherton that afternoon. As no score can be kept in these scrimmages, no results will be shared, but the girls started the scrimmage with big smiles and ended it looking exactly the same. Nice to compete again, and nice to stick coach back inside!
Not sure what the rest of the season holds for us, but we will keep working and are excited for what the future holds, even if we have to wait a little bit for it. Thanks to Alan and his team at Foxglide for the great uniforms – can't wait to design some new ones this summer – and for the amazing masks we use every time we enter a curling club and all the best to everyone as we battle this pandemic.
Stay safe, stay healthy, and as soon as it is possible, we wish all of you Good Curling!!
You can follow the teams on social media here
https://www.facebook.com/teambladescurl
https://www.facebook.com/Team-Atherton-105285547947004
The Nova Scotia Tartan design face mask is available on our dedicated face mask website at www.fxg-masks.co.uk